With their seams of glorious yellow fat and prominent flavour, pheasant thighs can make the most unctuous of sauces for pasta, and the richest, most decadent of these is surely the Bolognese. Serve this with freshly home-made pappardelle, and you will be transported to a place reserved by God only for celebrated Italian footballers, car designers and Saints.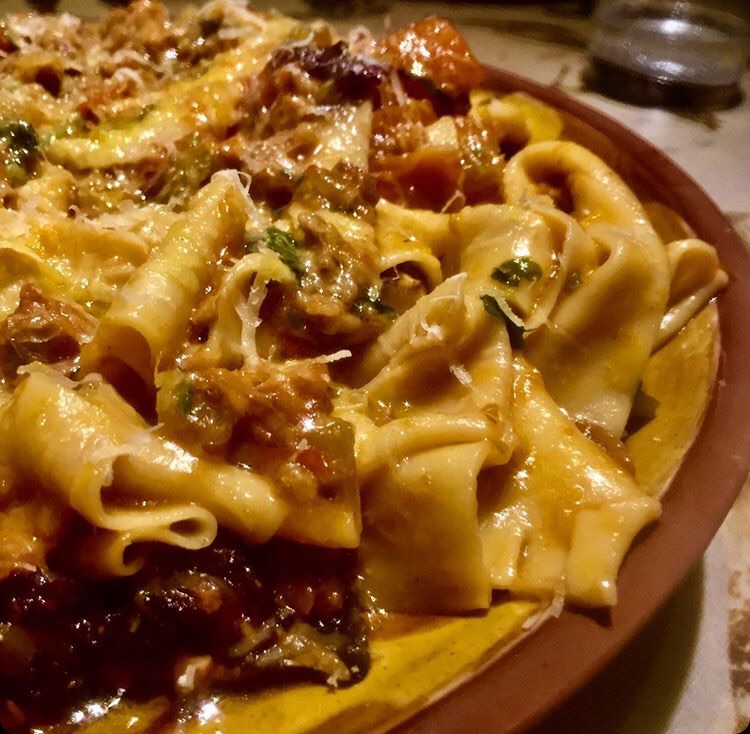 1. Heat the oven to 150c.
2. Season the pheasant thighs and veal with some salt and pepper.
3. In a heavy casserole pan, brown the meat in the oil on a medium/high heat. Remove and set aside.
4. Reduce the heat, gently fry the pancetta in half of the butter and remaining fat for 3-4 minutes, then add the fennel seeds and chilli flakes, fry for 1 minute more.
5. Add the diced vegetables and garlic and turn the heat down to low, adding a pinch of salt to draw out the moisture.
6. After 10-15 minutes when the veg is completely soft, place the meat back in and add the sherry, allow to come to a simmer and add the tomato puree and enough stock to cover.
7. Cover loosely and place in the oven for 3-4 hours, until the meat is falling apart and the liquid has reduced by half.
8. Give the mixture a good stir, breaking up the meat into small shards. Reduce further on the hob if needed, until the mixture is a glorious thick sludge.
9. Before serving, stir through a final knob of butter, a couple of handfuls of grated parmesan and the chopped parsley.
INGREDIENTS
Serves 4
100g butter
1tbsp EV olive oil
100g pancetta diced
1 tbsp fennel seeds
Pinch of dried chilli flakes
2 celery stalks, finely diced
½ fennel bulb, finely diced
1 onion, finely diced
1 carrot, finely diced
2 cloves garlic, finely chopped
4 pheasant thighs
100g shin of veal (optional)
100ml Amontillado sherry
3 tbsp tomato puree
A little stock, chicken or vegetable
Salt and pepper
Freshly grated parmesan
Handful of chopped parsley