Live Pigeon Guns were a speciality of Charles Boswell, he was an excellent trap shooter and was elected as Chairman of the Gunmakers Association in 1906 & 1907.
I had been looking for a good quality English gun for some time to use for sporting clays and also pigeon shooting and with many English guns from the golden period (c.1880- 1915 in my opinion) being chambered for 2 1/2″ cartridges a Live Pigeon Gun was the answer. With their tight chokes and long chambers these guns are ideal for heavy loads and for shooting hundreds of cartridges in quick succession. Now i'm not saying you cannot fire hundreds of cartridges through an old English gun with 2 1/2″ chambers because you can, English Guns of the day are built like no other, but I was looking for a good all rounder, clay gun/ wildfowler/ pigeon gun, and they do not come much better than Charles Boswell.

I found a good one two years ago from a dealer in Suffolk, and more recently I found its brother at auction in London, the guns have consecutive serial numbers and were infact made for two brothers from Putney, SW London in 1904, not a matched pair in the true sense but with their given history a good find indeed.
I paid way over the odds for the second gun at auction, but this is often the way with auctions if you're not careful, but it was a must have to match up the pair.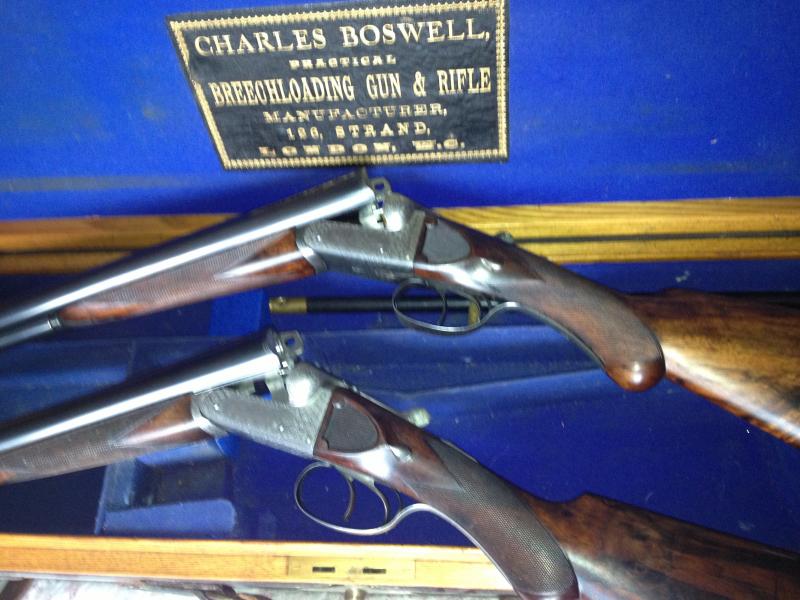 Charles Boswell was born in Hertford, the son of a butcher. With an early interest in shooting that led to his apprenticeship at the young age of 14 to Mr Thomas Gooch of Fore St, Hertford.
In 1872 he set up his first premises at 6 Chapel Place, Edmonton, a very run down area around this period. At this time his work was mostly repairs and gun fitting.
"By the late 1870s he was making guns in his own right"
Charles Boswell was an excellent shot and would practice at the Hornsey Wood and Hendon Shooting grounds, it was at this time he started to to attract the custom of fellow trap shooters and by the late 1870s he was making guns in his own right.
He built a variety of different guns: muzzle loaders, large bore fowling guns, hammer guns, boxlocks and best sidelocks.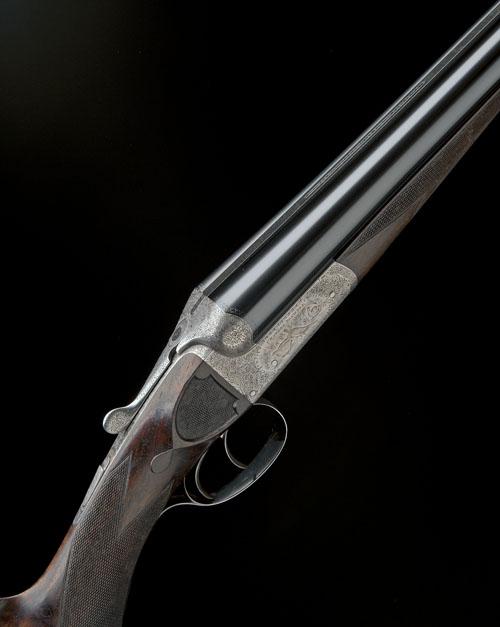 In June 1883 he moved to the West End of London at 126 Strand over a chemist shop and most of his guns we encounter today bear that address, this was his greatist period of production, c.1887 – 1914. At this period Charles Boswell was elected as Chairman of the Gunmakers Association.

In 1914 his eldest son Osborne George took over the running of the company and Charles partially retired due to bad health.
"Some people would suggest that his guns were made in Birmingham and then sent to London for sale but this is not the case"
It is noted that around 1914 Charles Boswell had a falling out with the London Proof Master and this is probobly the reason that guns made after 1914 show Birmingham proof marks. Some people would suggest that his guns were made in Birmingham and then sent to London for sale but this is not the case.
Surprisingly he was never elected Master of the Gunmakers Association and it could well have been that his feud with the London Proof House had some bearing on this.
 
Boswell's connection with live-pigeon shooting continued, with the company making extremely fine pigeon guns, up until the First World War and then with  the abolition of live pigeon shooting in Britian (pigeons released from cages).
"We can still find some exceptional examples still around today."
After this the firm started to demise like so many other Great British Gunmakers but for Charles Boswell in particular because live pigeon guns were very much a speciality weapon, but we can still find some exceptional examples still around today.
The firm then moved to 7 South Molton Street c.1921 but production was small with only 200 guns being made in 10 years.
In 1931 the firm moved again to 15 Mill Street but was bombed out on the 17 April 1941, it was thought that the records had been destroyed at this time but it turns out not to be the case and they are held in the USA, by GR Beckstead of Florida.
Osborne George the son of the founder, carried on the business from his New Barnet home address until his death in May 1941 just one month after being bombed out from 15 Mill St, and his widow kept things going until 1944, at this time the business ceased to be under direct family control and for many this is when the true business stopped trading.
In 1958 the name was acquired by Interarmco at 168 Picadilly, this was also the address of Cogswell & Harrison Ltd who's name and goodwill had also been taken over by Interarmco, but they ceased to trade in 1963.
In 1980 the name was acquired by Frank Malin, who tried to make guns in Canada under the Boswell name but the venture was short lived. Now the records are held in Florida USA.
Charles Boswell
Live Pigeon Guns also make great high bird game guns because of their ability to take heavy loads and their tight chokes. You will not find many with ejectors because this was simply not needed for the shooting of live birds released from traps, they will typically be heavier than the average 12 bore side by side weighing in over 7lbs.
Side clips to the action, wide file cut ribs and semi pistol grip stocks are also the attributes of the Live Pigeon Gun.
Because of these guns being quite limited and now desireable, prices are increasing, so you can expect to pay between £1,500 and £2,000 for a good example.
Charles Boswell – Live Pigeon Guns