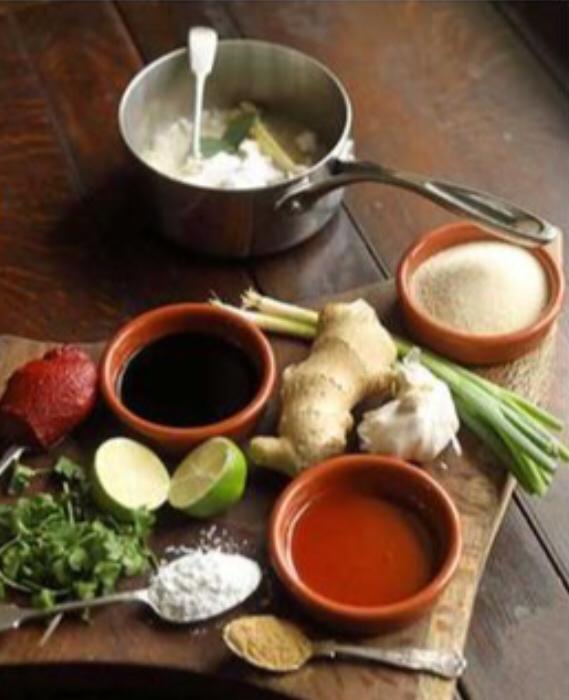 As with much far eastern food, the ingredient list looks dangerously laborious, but try not to be put off. The intensity of the sauce is perfectly off set by the fragrant rice, and cut with the pickled radish, so its really worth making the effort with those too. Make the radishes in advance if you like and put the rice on to boil just before you start frying the pheasant.
Serves 4
For the fried pheasant:
. 2 pheasants
. 3 tsp powdered ginger
. 1 tsp black pepper
. 1 tsp salt
. 100g cornflower
. 1 lt. vegetable oil
For the sauce:
. 6 tbsp caster sugar
. 4 tbsp gochujang paste
. 4 tbsp soy sauce
. 2 tbsp sriracha sauce
. 1 tbsp miso paste
. 6 cloves of garlic, crushed to a paste
. 3 inches fresh ginger, peeled and grated
. Juice of 2 limes
For the coconut rice:
. 300g jasmine rice
. 1 tin of thick coconut milk
. 400 ml of water 
. 1 lemongrass stick
. 2 lime leaves 
For the pickled radishes:
. 12 radish, halved
. 1 tbsp sugar
. 1 tbsp salt
. 2 tbsp apple cider vinegar
. 1 tbsp rice wine vinegar
 To garnish :
Handful of finely sliced spring onions and roughly chopped coriander.
To Cook:
1. Remove the backbone of the pheasant with a knife, flatten the spatchcocked bird out on a board, the cut the whole legs from the breasts.
2. Cut the legs into three pieces, across the bone and cut each breast into four pieces, across the bone.
3. To make the pickled radishes, mix the radish with the salt and sugar, leave for half an hour, then pour over the vinegars, Set aside.
4. To make the rice, simply put al the ingredients in a pan with a pinch of salt, bring to the boil then simmer for 10-12 minutes. Fluff up with a fork before serving.
5. To make the sauce, put all the ingredients into a pan, and bring to the boil gently. Allow to simmer for one minute then remove from the heat.
6. When you are ready to fry the pheasant, heat the oil in a saucepan until it is hot enough for a small piece of bread to begin turning brown in around 30 seconds.
7. Mix the cornflower with the ginger and seasoning and toss the meat in this coating. It is best to do this in batches to ensure the meat is well coated.
8. Fry the meat, again in two or three batches, for around 5-7 minutes, until the meat is cooked through and the coating is crisp and golden. Keep the oven set at 120*c.
9. Smother the fried pheasant in the sauce, coating well, and serve alongside the coconut rice and pickled radish. Garnish with spring onion, coriander and perhaps some sesame seeds should you wish. 
KOREAN FRIED PHEASANT WITH COCONUT RICE AND QUICK PICKLED RADISH