Is a Pea Crop the Holy Grail?
This is not always the case but..
I've mentioned in a previous article that often us pigeon shooters think that a pea crop is the Holy Grail when it comes to making a good bag over our decoys. However, this is not always the case but on a bright sunny day this April it certainly was the Holy Grail for Stuart who is one of my regular clients. Stuart had booked 3 days with me during his week's holiday in Norfolk and peas had been drilled into a large field on a local farm about one week earlier. I had been watching the field since it was drilled and although the pigeons had been a little slow to find the field, the day before we were shooting the field was starting to look very interesting.
Good numbers of birds were now starting to feed there and the farmer was very receptive to my approach. Birds had been spread across the field and it was difficult to pinpoint exactly where the best place to set-up would be, so I decided to set-up on the high ground with the wind blowing from behind the hide. Although Stuart managed to shoot a good few pigeons here, he was aware of very good numbers of birds coming and going at the far side of the field.
"I'm a firm believer in making the effort to get the best we can from a days shooting"
There was a row of oak trees along the far boundary which would offer good cover for the hide but I was still concerned about the cold wind blowing directly at the hide. Stuart being a hardy chap was not concerned about getting cold, only about shooting woodies. OK let's move! I'm a firm believer in making the effort to get the best we can from a days shooting and if that means upping sticks and moving then so be it.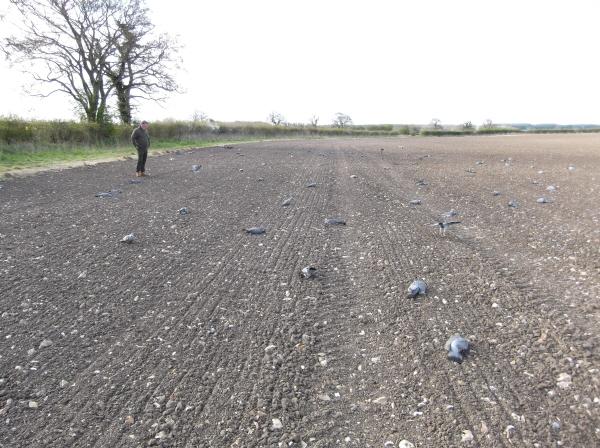 Thirty minutes later, the hide is under the oak trees, the decoys are set the rotary is spinning, floaters are bobbing about in the strong south westerly breeze and I'm off to look for birds for tomorrow. One hour later I phone and speak to a very enthusiastic Stuart who says it's working really well. I've found a couple of places that look good for our next days shooting so I'm going home for a cup of tea.
"Stuart is a bit handy with his Browning Auto so let's crack-on and shoot a few at distance..."
One hour later the birds are plentiful if not decoying very well. I'm not really surprised at that as birds rarely decoy well when the wind is blowing directly at you. Never really been able to put my finger on the reason but it is a fact and I go out of my way to avoid setting up this way but today the pigeons want to be at this end of the field and Stuart is a bit handy with his Browning Auto so let's crack-on and shoot a few at distance. By the time the birds slow down and Stuart has had enough, I arrive at the field to witness the carnage of what I'm sure must be a 100 bird day.
Wow, what a mess It seems to take forever to pick up and clear away and my dog Beau is covered in rape pollen from the neighbouring rape field behind the hide, but still he goes in and out of the rape picking up shot birds. We layout the birds for the customary photograph and sure enough, counting a few crows, we have 109 birds in the bag.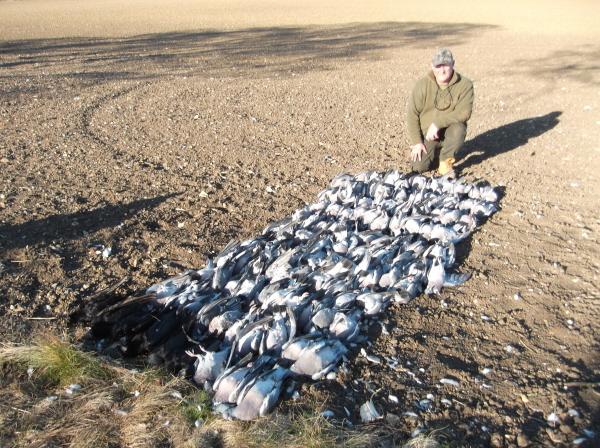 On Stuarts next day we start off on a rape field but following a very slow start we relocate on clover some miles away and he shoots 34 during a productive afternoon. On day 3 against my better judgement, we go back to the pea field we shot just a couple of days earlier as there are still loads of birds moving around the drillings.
I'm proved totally wrong again and the birds decoy. Stuart manages another 40 plus bag, that's close on 190 birds shot over the three days. Well done that man!
Pigeon Shooting – Dying For A Pea?